About Us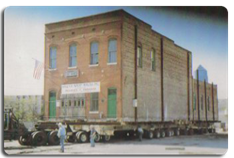 Hygema House Movers was established in Northeast Florida in 1927. Upon purchase of the company by Albert Boyles Sr. in the 1950's, the Boyles family built upon the existing solid reputation that has come to be a trademark of Hygema House Movers.
Hygema House Movers has continued to serve the house and structural moving industry with integrity, skill and dedication. Since 1950, the company's services have evolved and expanded to also include general construction services, foundation and structural leveling, repair, and stabilization.
The company has successfully moved structures and non-structures including houses, historical buildings, planes, boats and cranes over both land and water. The largest building Hygema has moved was the City of Jacksonville (FL) Historical Fire Museum in 1994. The building (pictured above) weighed approximately 600 tons and was transported on land. The largest building they transported by barge was approximately 350 tons.  We are currently moving the City of Jacksonville Historical Fire Museum once again.  Check back for details.
Hygema's years of experience and service includes providing structural foundation and drainage solutions for residential and commercial property owners in Florida, Georgia and South Carolina. They not only understand the broad range of problems property owners can encounter, they have the knowledge and skill to correct them. Hygema Foundation Repair and House Movers fully understand there are no "one size fits all" situations when it comes to repairing your home's foundation. With their years of expertise and superior customer service, they are able to work one on one with their customers to assess, inform and design the precise solution using the exact technique for a lasting repair.
Hygema Foundation Repair and House Movers specializes in the following services:
Whether your project is residential or commercial and your needs include foundation repair, house leveling or structural moving services, your very next call should be to Hygema Foundation Repair and House Movers. Their commitment to quality and customer satisfaction is second to none and their reputation frequently speaks for itself. Consultations are always free.
Hygema House Movers is a licensed, bonded, and insured member of the International Association of Structural Movers and is a state certified building contractor.